From the monthly archives: May 2012
The TCustomz.com Official Website revamp is now LIVE! Make sure to check out the new look and feel as well as the totally revamped pages and content.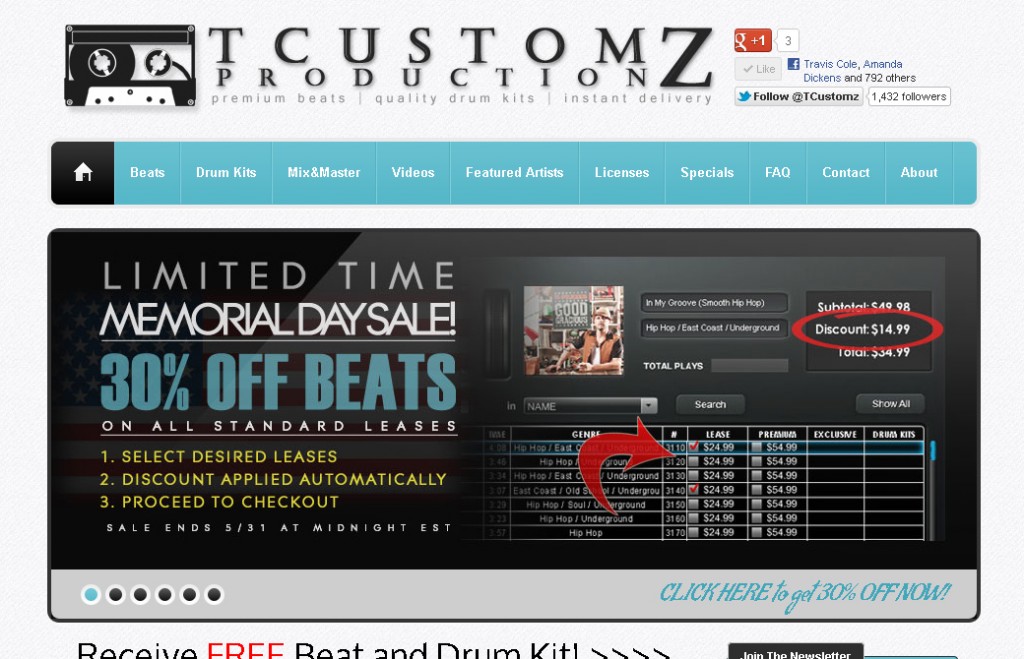 Content Just Added!
- NewQuality Hip Hop beats and Sampled beats – www.TCustomz.com
- New Vocal Mixing and Song Mastering samples – Mixing & Mastering
- New Hip Hop Beat Making Video – Videos
So I just finished this beat making video for my newest beat, "In My Groove".  I would describe this one as an M-Phazes style track – very soulful with hard hitting drums, but also has atmospheric and jazzy elements to it as well.
This was my first attempt at any real video editing, so keep that in mind.
Please take a quick second to Subscribe to the tcustomzDOTcom YouTube Channel and "LIKE" the Facebook Page.
Join the official TCustomz.com Newsletter to receive FREE Beats & Drum Kits!
New mixing and mastering samples have been added!
Have you already recorded vocals for your song and need them professionally mixed?
Or is  your track mixed and simply need it mastered? No problem!
Check what some of our recent clients had to say about our work:
"Love the way my track turned out, I highly recommend using this service!" – JamieP
"I just wanted to let you know that you did an amazing job with 'Breathe'. Thanks and you will continue to have customers through me." – 11:23pm
For more details, visit http://www.tcustomz.com/mix-master.html
FREE BEAT & DRUM KIT!

Simply tell us where to send your FREE Beat & Drum Kit below! NO WAIT. INSTANT DELIVERY! "LIKE" our Facebook Page as a way of saying thank you! Plus receive updates, discounts, music tips, & more!


NOTE: If you did NOT receive your free gifts via email, please make sure to check your spam/junk folder.