From the monthly archives: July 2012
We're excited to announce that the TCustomz Productionz Drum Sample Pack Vol. 3 will be released in only 3 days! If you copped one of our earlier kits, you already know what type of quality to expect.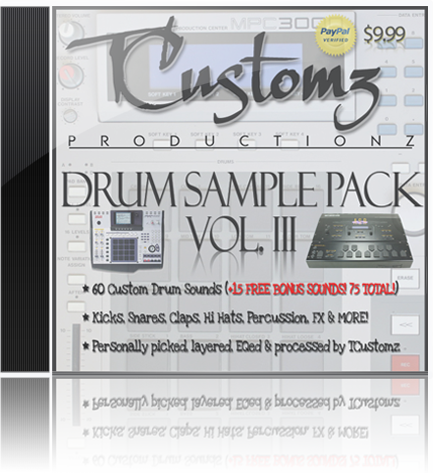 We take pride in knowing that we are providing top-notch, 100% Custom, drum sounds to help you take your music production to the next level!
Excellent for Hip Hop, Boom Bap, Neo-soul, Underground, East Coast, & R&B style production.
Includes 75 Drum Sounds including: Kicks, Snares, Hi Hats, Claps, Percussion, FX & MORE!
Here is a preview of some of the drum sounds included in the TCustomz Drum Kit Vol. 3:
For more information, and to preview our earlier drum kit releases, visit http://www.tcustomz.com/drumkits.html.
FREE BEAT & DRUM KIT!

Simply tell us where to send your FREE Beat & Drum Kit below! NO WAIT. INSTANT DELIVERY! "LIKE" our Facebook Page as a way of saying thank you! Plus receive updates, discounts, music tips, & more!


NOTE: If you did NOT receive your free gifts via email, please make sure to check your spam/junk folder.