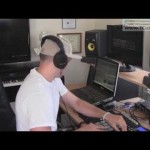 Making an East Coast Hip Hop Beat "Celebrate" w/ Ableton Live, Akai MPD32 & MPK49 + FREE DL
In this video, I re-create my newest Hip Hop beat, "Celebrate". This instrumental was influenced by 90s East Coast Hip Hop with a modern twist.
The high-quality, untagged beat is available for license with Instant Delivery at www.TCustomz.com
Producers & Beat Makers: The 100% custom drum samples used in this beat are included in the TCustomz Drum Sample Pack Vol. 4 – Available with Instant Delivery at www.TCustomz.com/drum-kits.html
_____________________________
Follow @TCustomz
FREE BEAT & DRUM KIT!

Simply tell us where to send your FREE Beat & Drum Kit below! NO WAIT. INSTANT DELIVERY! "LIKE" our Facebook Page as a way of saying thank you! Plus receive updates, discounts, music tips, & more!


NOTE: If you did NOT receive your free gifts via email, please make sure to check your spam/junk folder.