Currently viewing the tag: "Alchemist"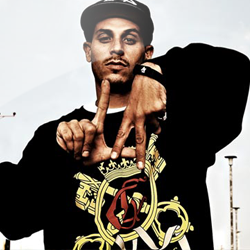 I just finished up a new Hip Hop beat, entitled "False Hopes", with emcee Evidence of the Dilated Peoples in mind.  And I also made a short teaser video to go along with it.
The full-length, high quality version of this beat is available for Stream or Download at www.TCustomz.com.
Back again with another beat making video. This time I am creating a sampled Hip Hop beat, entitled "Hiding Place",  using two samples, Ableton Live, an Akai MPD32 & MPK49.  As I mention in the intro, the main sample that I use for this beat is one that I almost passed on.
A Tip for Sample-based Producers: When you dig for samples, make sure that you thoroughly listen to the songs you are considering sampling.  Skimming over your sample library is an easy way to miss out on some great sounds to use in your beats.  Just because you don't find what you're looking for in the intro, doesn't mean you won't find that gem you've been looking for later in the song.
I made this beat with The Alchemist or Evidence in mind. Any true lyrical emcee would slaughter this!
Beat Title: "Hiding Place" - Full-length/HQ/Untagged Beat available at www.TCustomz.com w/ Instant Delivery!
This is a preview of the drums included in the TCustomz Productionz Drum Sample Pack Vol. I. Receive 51 Drum Samples including: Kicks, Snares, Hi Hats, Percussion, Transition FX + MORE!
Excellent Kits to use for Hip Hop Beats, Soul Beats, Underground Beats, Boom Bap Beats, Old School style beats, and Sampled beats.
Download for FREE @ http://www.tcustomz.com/join.html
FREE BEAT & DRUM KIT!

Simply tell us where to send your FREE Beat & Drum Kit below! NO WAIT. INSTANT DELIVERY! "LIKE" our Facebook Page as a way of saying thank you! Plus receive updates, discounts, music tips, & more!


NOTE: If you did NOT receive your free gifts via email, please make sure to check your spam/junk folder.