Currently viewing the tag: "beats"
I am very excited to announce the anticipated TCustomz Productionz Vox Sample Kit Vol. 1 is finally here!
 100 total Soul & Funk Vocal Samples
Personally picked, EQed and processed by TCustomz.
 Excellent for Hip Hop, Boom Bap, Old School, East Coast, Soulful & Underground style music production!
 Includes vox stabs like: "Oohs", "Yeahs", "Heys", "Ows", "Whoas", Yells, Grunts & much more!
Compatible on any Hardware or Software devices (including but not limited to: FL Studio, NI Maschine, Ableton Live, All Akai MPCs, Reason, Pro Tools, Logic, Cubase + MORE!)
 Format: 44.1 kHz 16 bit .WAV
Preview & Purchase exclusively at www.TCustomz.com today!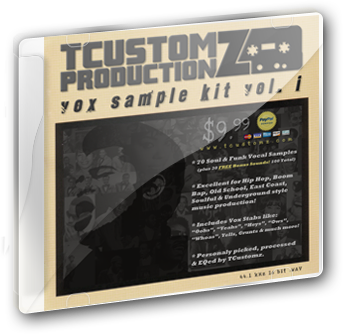 Video Transcript (after intro):
So what I have opened is a session from a recent beat I released on my website, entitled "City of Darkness".  In this track I use five of the vocal samples that are included in this kit.  And I kind of want to explain some of the different ways you can use these sounds.
In the hook of this track, I use Vox 34 *previews sound*, Vox 38 *previews sound*, and Vox 57 *previews sound*.  Now that's how they'll sound when you get the kit.  What I did for this particular beat is also experimented with panning, delay, and transposing the samples.
I'm going to play the hook through so you can hear how the samples were used, and then I'll break down what additional processing I did to each one. *Plays Vox Sample Demo w/ Beat*
So you can probably notice the delay that was added to each sample, just to kind of fill in the extra space.
For the first sound, Vox 38, you can notice that there are actually three distinct pieces of audio in that sample – but I only used the first part.  I also added a basic delay as well as panned it slightly left so it would sit well in the mix *Plays Vox 38 w/ processing*
For the second – Vox Sample 57, I also added basic delay and panned it slightly as well. *Plays Vox 35 w/ processing*
Now, for the third sound, Vox 34, I did the pan and delay, but I also manipulated the pitch using the transpose function.  The reason I did that is because the vocal sample didn't match the key of my beat.  So you can see that I pitched it up +4 half steps.  *Plays beat demo while transposing Vox 34 pitch*
And later in the beat, I used two more vocal stabs – Vox 10 *plays preview* and Vox 66 *plays preview*.  And here's how they work with the beat *Plays beat demo w/ vocal stabs*
So as you can see, there's a lot you can do with these samples.  The beat playing in the outro will also demo some more sounds included in this collection.
If you're interested in this kit, it's available at TCustomz.com.  And also feel free to send me any finished beats you've made using these sounds.
So that's all I have.  Thanks for watching.  Peace!
FREE BEAT & DRUM KIT!

Simply tell us where to send your FREE Beat & Drum Kit below! NO WAIT. INSTANT DELIVERY! "LIKE" our Facebook Page as a way of saying thank you! Plus receive updates, discounts, music tips, & more!


NOTE: If you did NOT receive your free gifts via email, please make sure to check your spam/junk folder.