Currently viewing the tag: "percussion"
We're excited to announce that the TCustomz Productionz Drum Sample Pack Vol. 3 will be released in only 3 days! If you copped one of our earlier kits, you already know what type of quality to expect.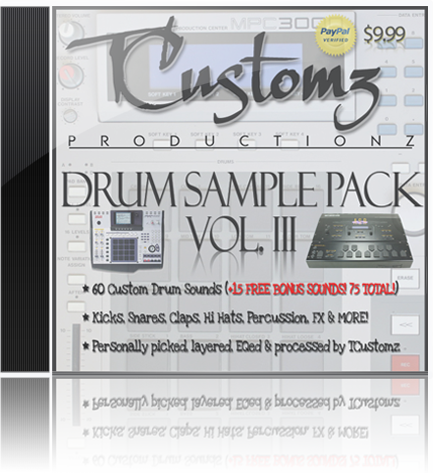 We take pride in knowing that we are providing top-notch, 100% Custom, drum sounds to help you take your music production to the next level!
Excellent for Hip Hop, Boom Bap, Neo-soul, Underground, East Coast, & R&B style production.
Includes 75 Drum Sounds including: Kicks, Snares, Hi Hats, Claps, Percussion, FX & MORE!
Here is a preview of some of the drum sounds included in the TCustomz Drum Kit Vol. 3:
For more information, and to preview our earlier drum kit releases, visit http://www.tcustomz.com/drumkits.html.
The highly anticipated TCustomz Productionz Drum Sample Pack Vol. II is finally here!
NOW AVAILABLE >>>> CLICK HERE!
As an added BONUS, we have added 25 FREE Sounds including: Drum Breaks, additional percussion/percussion loops, and extra SFX!
Are you looking for drums that SMACK? Are you tired of stock drum sounds with no pop?
LOOK NO FURTHER! | WARNING: These drums BANG! | CLICK TO PREVIEW
100% CUSTOM Drum Kits. That means you will not find these anywhere else on the net!
Here is a sample of some of the drums contained in this drum pack:
YOU WILL RECEIVE:
* 100 Custom Drum Sounds
* Kicks, Snares, Hi Hats, Percussion, Transition FX, + MORE!
* Compatible on Any Hardware or Software (including, but not limited to: FL Studio, Ableton Live, All Akai MPC Line, Logic, Pro Tools, Reason, Cubase + MORE!)
* Format: 44.1 kHz 16 bit .WAV
* All sounds are personally picked, EQed, compressed, and processed by TCustomz!

CLICK HERE TO PREVIEW!
Excellent for Underground / Old School / Boom Bap / Soul / Sample-based Hip Hop production.  Also would be great for neo-soul style production!
FREE BEAT & DRUM KIT!

Simply tell us where to send your FREE Beat & Drum Kit below! NO WAIT. INSTANT DELIVERY! "LIKE" our Facebook Page as a way of saying thank you! Plus receive updates, discounts, music tips, & more!


NOTE: If you did NOT receive your free gifts via email, please make sure to check your spam/junk folder.