Currently viewing the tag: "rap"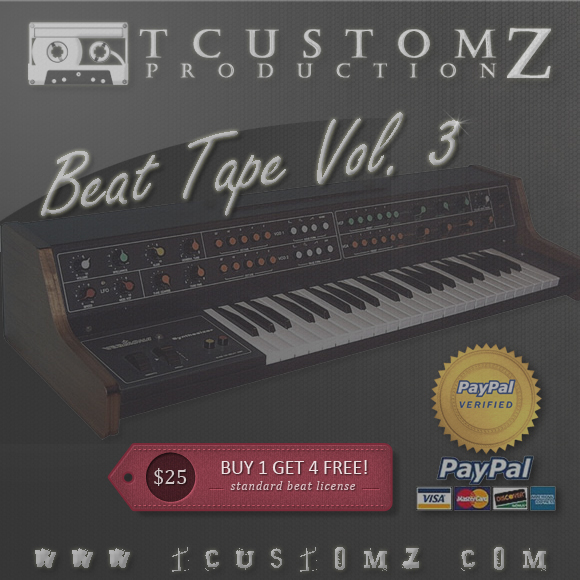 The new TCustomz Beat Tape Vol. 3 will be released in almost 2 weeks! This instrumental album will include 5 Unreleased tracks, all produced by TCustomz, and will drop on Black Friday, 11/23. See the EXCLUSIVE sneak peak at the artwork above!
More info to come at www.TCustomz.com.
For this release, you can expect more real Underground Hip Hop beats for the true Hip Hoppers and soul heads. The tape will include 5 unreleased instrumentals for the price of 1! That's 4 FREE beats! An excellent bargain if you're looking to Buy Hip Hop beats for sale – especially those recording artists and emcees looking for beats with an old school, boom bap influenced sound.
Our previous release, TCustomz Beat Tape Vol. 2, was a big success and we expect that you will be just as thrilled with this new beat tape! It's not very often that we make these beat tapes available, but we are very glad to be able to release these affordable, high quality projects to the public.
For all the latest updates on our new project releases, including this new beat tape release, as well as contests (win free prizes!), promotions, music tips & more!, "LIKE" our Facebook Page and Follow @TCustomz on Twitter.
FREE BEAT & DRUM KIT!

Simply tell us where to send your FREE Beat & Drum Kit below! NO WAIT. INSTANT DELIVERY! "LIKE" our Facebook Page as a way of saying thank you! Plus receive updates, discounts, music tips, & more!


NOTE: If you did NOT receive your free gifts via email, please make sure to check your spam/junk folder.